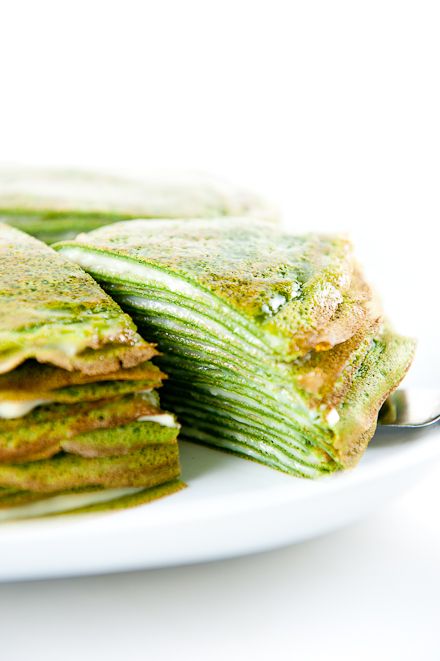 The tea green matcha is is turning in a routine in the kitchen. It is no longer so rare to find it on shelves next to spices or as the main ingredient of a dish 3 Michelin stars. Its color, taste different and versatility as ingredient would be sufficient by itself alone for launch it to the stratosphere of them food, but also can add their benefits for the health: helps to reduce the cholesterol and sugar in blood and is very rich in vitamins and antioxidant, between others.
Today we get fully into the kitchen with a very simple, original, healthy and delicious recipe by equal parts. Ponte apron and hands to work!
CREPES of MATCHA green tea
The Pancake are a recipe European of origin French made primarily of flour of wheat, with which is made a mass in form of disc. Is serves usually as base of a dish or dessert using you all type of ingredients sweet or savory.
The ingredients for the filling are varied, can fill almost anything, to taste and choice of who prepare it. The crepes sweet, to the prepare is mainly for desserts and snacks, often filling is with chocolate, candy, jams, etc. By its part them crepes salted is prepared as inbound or dishes main, and is filled of others ingredients as vegetables, cheese, fish, chicken and to where the imagination you take.
INGREDIENTS: (for 7-8 crepes)
150 grams of flour for pastry.
2 tablespoons of Matcha tea.
1 pinch of salt (half teaspoon of coffee).
ELABORATION:
Beat the eggs and the sugar.
Add gradually the flour sieved (with the help of a strainer), the salt and the milk.
Beat until the ingredients are well mixed and smooth.
Sift of the same way the tea matcha and it added to the rest of the mass.

We should be a mixed rather creamy and without lumps.
Let stand for a few minutes.
Put to heat a pan with a little oil, small-medium. Hot once pour pancake batter enough to cover the surface, carefully not to lend too much and that a too fat pancake is us.
Trick! The crepes are more rich fine. When you put the dough in the Pan, estirala well making movements circulars so that it expands.
When we see that it takes color on one side, flip. Remove it when is same color on both sides. Not make it too time because we will be very made and will lose its texture feature.
Only you lack prepare the filling.  You choose how enjoy these delicious Pancakes for tea green matcha!
(Photo: zencancook. com)